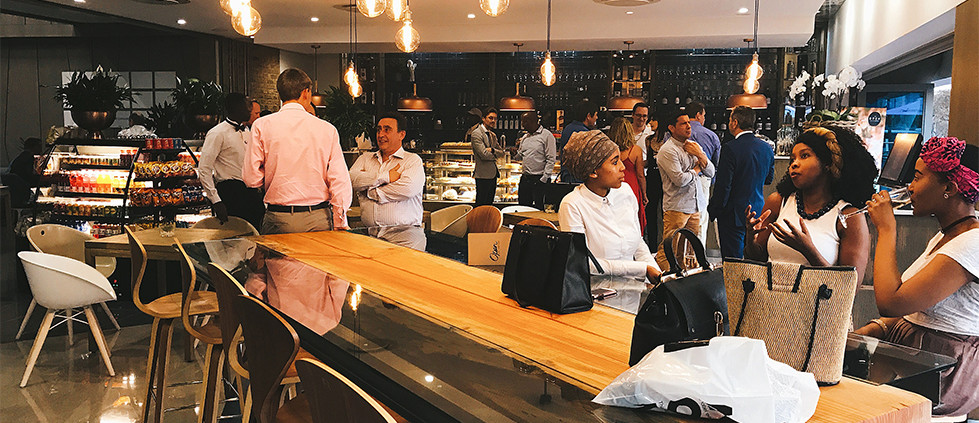 "Food Specialist OPEN Food Group have announced it will be establishing a new café at Oxford & Glenhove, Barrow Properties' latest sectional title office development.
Open on Oxford is the fourth café in the Open family; following in the footsteps of Open on West (located in the prestigious Katherine and West office development), Open on Rivonia (situated within the Nedcor building) and Open on Park, which is housed within Metropolis on Park. "This will be our fourth corporate café; and our newest partnership with Barrow Properties," says OPEN Food Group's CEO Tamar Klonarides, giving a nod to the close relationship that has been established with them.
Tamar notes that the team have observed the aspects that have proved successful at OPEN Retail's existing entities, and will be replicating them in the latest venture. This means tailoring the offering to suit the environment. For instance, while Open on Rivonia focuses on convenience, in keeping with the fast pace of its location, Open on West enjoys a distinctively more relaxed atmosphere. "Open on Rivonia accommodates between 2 000 and 3 000 people each day, and they're all looking for efficiency. In contrast, because Open on West and Open on Park include a residential component, we are offering an evening service so that people can end their day with a drink at our downstairs bar."
Open on Oxford will look to combine these two elements. "Rosebank's environment presents high traffic characterised by different cultures, workspaces and corporates. The building is home to Coca-Cola and numerous other high profile businesses. Sappi will also soon be moving their headquarters to another new Barrow development on the corner of Oxford Road and 14th Avenue. The site itself is a beautiful building that really takes advantage of all that Rosebank has to offer. I don't think that Rosebank is ever quiet."
With this in mind, Open on Oxford as a restaurant will be offering a vibrant new hot spot for cocktails and coffee for those working in Rosebank, or merely stopping by for a bit of retail therapy. "The idea is to give people a place where they can relax after work; but, equally, they can hold meetings here and stay for a drink afterwards," Tamar says. This flexibility will be ensured by keeping an eye to the convenience for which all other OPEN Retail outlets are renowned, while fostering a bustle that wouldn't be out of place at any of Johannesburg's entertainment hubs. We want to create a lively atmosphere, rather than something serious. We imagine this as a place people can take their clients to make them feel a bit more special. That informality is key – we've noticed that people tend to be more productive when their atmosphere is less constrained."
Open on Oxford's inviting outside restaurant deck overlooking Oxford Road plays a major role in making Open on Oxford a new hot spot, presenting the perfect venue to watch Johannesburg's orange sun set while sipping on a G&T. Tamar says that the cocktail menu will also be a draw card, taking its cue from exciting new trends such as the current preference for coffee-flavoured drinks, which is inspired by South Africa's developing coffee culture. However, it will also include classics and old favourites.
Open on Oxford's café-style buzz has been enhanced by a modern metropolitan look with plush white furnishings which add a touch of luxe, illuminated outdoor fittings, copper tones, dark navy tiles and mosaics.
The café's premises, Oxford & Glenhove, has proved attractive with corporates seeking a location with excellent accessibility; close as it is to major arterials as well as onramps and offramps servicing the M1 and N1 highways. It is, moreover, within walking distance of the Gautrain station, and within close proximity to the malls, restaurants and other amenities that make Rosebank a perennial favourite for Johannesburg dwellers." Written by Grapevine Communications